Zimsen Partners: Team Update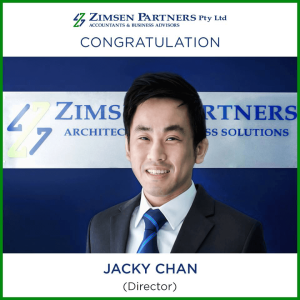 Jacky Chan has been newly appointed as one of the Directors of the firm alongside Terry & Dancy. Jacky started as a Graduate Accountant in the firm in 2013; he has excelled in the fields of business advisory and taxation ever since – being promoted to Senior Accountant, Manager and eventually an Associate. Besides holding a CPA, Jacky has recently obtained his RG146 SMSF Personal Advice Qualification and has also become a Registered Tax Agent.
Alongside Jacky's success, the firm has experienced rapid growth and is constantly recognizing individuals for their accomplishments and hard work; notably the following individuals who have been promoted to their new roles:
Congratulations to all and best of luck for the new Financial Year.