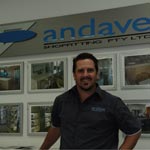 Andave Cabinets has been providing our clients with superior quality products and service since 1994, we pride ourselves on being the most client focussed, quality controlled cabinet making company in Australia.
As our business grew in both size and complexity it became clear that our accountant that has been with us since the early days was no longer able to provide us with the financial and accounting counsel and support we needed.
In 2008 we put together a comprehensive set of criteria that we needed a new accountant to fulfil, we then embarked on a systematic process of reviewing the local accountancy firms that met those criteria. Zimsen Partners stood had and shoulder above their respective competitors at the completion of the review process.
Andave have now partnered with Terry Zimsen and his team since 2008 and have achieved healthy business growth year on year since then. Terry and his team are always available to provide the necessary support and guidance when it comes to our financial and accountancy need, whether it is simple BAS enquiry or complex strategic business advise Zimsen Partners is always our first port of call.
We highly recommend Zimsen Partners to anyone needing accountancy based services, Terry's team is made up of experts that cover all aspects of Tax and Financial Services matters. If you're serious about the financial accountability of your business or personal financial prosperity you need Zimsen Partners in your corner.