Starting a Business with absolutely nothing and building into a Thriving Enterprise.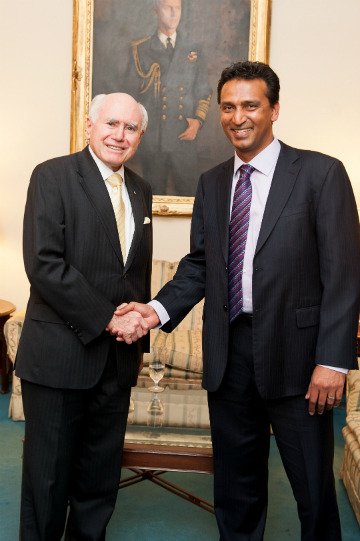 Director, Vinay Sharma in his capacity as the Chairman of Indian Executive Club (IEC) had the pleasure of meeting and hosting Australia's second longest Prime Minister, Hon John Howard. Mr Howard was the keynote speaker at the IEC Awards Gala night held on 9th November 2013.
Mr Howard in his address highlighted two of the things that stood out in a recent Mckinsey and Company report produced for the United Nations projecting forward the population of the world and the composition of that population. These two were firstly that by 2030 there will be 2.2 billion additional middle class consumers in the world, and 1.7 billion of those consumers will live in Asia.
The second, Mr Howard said, "The other –projection, also very relevant to India, is that in 2050, by then for the first time in mankind's history, for the first time ever the total number of people in the world over the age of 65 will exceed the total number under the age of 14. Now those of you who study the demography of the world, and studied the demography of India and Australia will understand the enormous significance and the enormous potential of those statistics for our two countries".
"For India remains a very young society. I was recently amazed to be told that the age cohort in India between 15 and 25 was the largest age cohort of any country in the world, and that the total number just exceeds the total population of Indonesia."
"So India will have an advantage because of the relatively youthful population, not only now but in the future, compared to many other countries, not only in Europe — where the birthrate has fallen significantly — but also in Asia, particularly compared to the huge nation of China. And what that reality represents to Australia and India is an enormous opportunity for the future".
Mr Howard also outlined his view about the Small to Business Enterprise sector. "As you know from the time that I was Prime Minister, I believed in private enterprise, I believed in the work ethic, I believe that one of the greatest things a man or woman can do is to start a business with absolutely nothing, and build it into a thriving enterprise, and leave it for their children to carry on".
Mr Howard also informed the audience that he was brought up in a business environment and he understands the challenges of operating SME Businesses. "I was brought up in a small business environment. My father ran a small petrol station service in an inner suburb of Sydney. I know what it's like to run a small business. You don't have any guaranteed market shares. You don't get paid for penalty rates if you work at weekends, you don't get paid any working overtime, and you don't have guaranteed customers you just got to rely on your own ingenuity".
On maintaining economic competitiveness both for Australia and India Mr Howard's view were "Both Australia and India, in order to succeed in the years to come, must retain their economic competitiveness. When I was Prime Minister I frequently said that economic reform for a nation is rather like competing in a never-ending foot race. The finishing line keeps receding, you want to give up because you know you are never going to reach that finishing line but you can't give up because if you do, the other competitions will surge past you."
According to Mr Howard that in recent time economic reform have slowed in Australia and as well as in India.
"All nations go through phases of economic reform and economic change. Sometimes they grow a little weary of it and then they release because of the hot bed of competition they have to pick up and perform on the challenge again. That has happened to India – she went through a period of great economic reform in the early 1990s, but there are some signs that in recent years it has slowed down. The same thing happened on a different scale in Australia. We had some great economic reform they produced great results but over the past few years I think we have fallen off the pace so far as economic reform is concerned."
"We live in a world of globalization, and to this day, we are never turning back the clock because globalization has done a wonderful thing. It's lifted hundreds of millions of people out of poverty. When the story of the last 50 years of the world economy is written decades in the future, the principle story won't be the global financial crisis starting in 2008. The principal story will be the extraordinary way in which through globalization and the forces of competitive capitalism, hundreds of millions of people have been lifted out of poverty. And it is a wonderful story that will be told."
400 people attended the IEC awards night.